Sue Millard



Connect with Sue Millard on Facebook.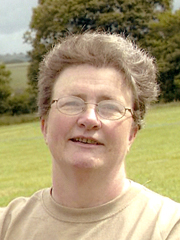 Sue Millard
I was born in Cheshire and went to school there and to university in Chester. I moved to Cumbria in 1975. Since then I've lived up here with my husband. To begin with we had a little house in Shap (just as well we both like Weather) then in 1983 we moved to what he calls "a very small hamlet at the end of the world." We have a grown-up married daughter and a son, lost a much-loved granddaughter to cancer shortly before her 6th birthday, and now have a red-headed and a blond grandson both with permanent grins and (predictably) a liking for the open air and Fell ponies.
My first degree was a 4 year honours degree, 2.1 in English Literature and Education, at Chester College (now the University of Chester). Later I achieved a Masters degree in Multimedia Computing from the University of Central Lancashire.
Literature AND computing? Well--why not? Writers don't have to be office bound. We should resist being pigeonholed, typecast or stereotyped! (See what I did there?)
I've brought up a family. I've designed embroidery canvases, painted murals and built websites. For 14 years I made competition driving harness for horses and ponies, and farmed at Daw Bank. During that time I was a regular contributor to Carriage Driving Magazine, was a cartoonist and wrote for the pony magazine Going Native until its closure in 1995 and I still contribute occasionally to its successor Native Pony.
Three of my books were published by "proper" publishing houses, One Fell Swoop (now reprinted), Against the Odds (J A Allen) and Hoofprints in Eden (Hayloft). Since then I've also been doing a good deal of editing and proofing work and managing web sites, and the penny finally dropped that I could be doing all this for my OWN books. So here we are: six years on, still writing, still selling books.
Luke Casey and Dales Diary interviewed me in 2007 about Hoofprints in Eden and an interview by Dylan Winter for BBC Radio 4's "Rare Steeds" is archived here.
Article in the Cumberland & Westmorland Herald Monday, 08 October 2012