Dragon Bait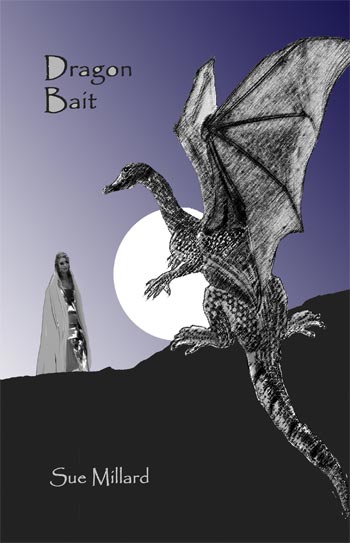 This one's got humour and horses that fly.
Princess Andra volunteers to act as bait for the dragon ravaging her father's lands, on condition that she is released from an arrangement to marry a foreign prince.
Unfortunately the Knight Rescuer who turns up is not the trusty old retainer she expects, but an unknown conservationist who wants the dragon, not the lady. After that very little goes according to plan.
GENRE: Comic fantasy (age 9-12).
---
Dragon Bait - digital version: KINDLE
Publication date: July 2012.
Click here for the Amazon.co.uk site | Click here for the Amazon.com site
You don't have to buy a Kindle: you can download the Kindle reading application and read on your PC or Smartphone.
ASIN: B008K8SDWG
ISBN: 978-0-9573612-0-1
---
Dragon Bait in Paperback
Publication date: September 2012.
Can be ordered from bookshops now!
ISBN: 978-0-9573612-1-8
£ 6.99 - see Links page for my local bookshops
Order Dragon Bait
Paperback
£6.99 + £1.30 post and packing (£6.55 overseas).
---
Reviews of Dragon Bait
**** A fabulous quirky novel with amusing plot twists.
19 Jan 2013
Amazon USA
**** A new twist on an old story. Having grown up with fairy stories where the princess is just supposed to hang around to be rescued and then live happily ever after with her rescuer this tale was a refreshing change. The heroine was managing quite nicely to extricate herself from her difficulties by the time the hero showed up - and he was more interested in rescuing the dragon anyway! Loved Hugh, the mule with an afterburner. 24 Nov 2012 Amazon USA
***** An Entertaining read. I really enjoyed this little book. I hadn't read any of this authors fiction before and thought that this was well written, with an entertaining touch to the characters, an original plot and a neat ending. I'm not sure what age it's intended for, probably older children, but also an entertaining light read for an adult. I shall be looking for other books by Sue Millard. 21 Nov 2012 Amazon UK
***** A quirky, fun read. This was a surprise find. I have to admit that the cover doesn't look like much, but don't let it keep you from reading this book. It was a quick, quirky read that kept me hooked from beginning to end. The characters, especially the royal family, are hilarious in a clever way and the heroine is the kind of princess I wish there were more of. 20 Nov 2012 Amazon USA
***** A Fun read! I'm not a fantasy fan, but found this very entertaining and easy to read. In fact I couldn't put it down until I reached the end! I've read other material from this author and couldn't believe the imagination used to create this very entertaining story. (The other work I've read was more historical in nature, which I really enjoy.) 17 Nov 2012 Amazon USA
***** An entertaining, amusing read. Short and sweet, I read it in one sitting. Suitable for all ages. I'll definitely try another book by the same author. Oct 2012 Amazon UK
Downloaded and being read as we speak. [my daughter] is enjoying it - (81% read).Aug 2012 Great Writing
***** Dragon Bait...sooo much fun! An easy read that draws you into a lovely, light tale in a fairy tale land. A great bedtime story. 27 Aug 2012 Amazon USA.
***** Dragon Bait really has it all -- an unlikely Princess, talking Dragons, flying horses and mules, intrigue and misunderstanding, a Hero in disguise and a happy ending. 23 Aug 2012 Amazon USA.
---
Reviewers may request a digital copy in any of these formats in exchange for review. Please email.
Mobi (Kindle) - please e-mail giving your Kindle e-mail address.
E-Book (E-Pub) E-PUB files are readable by Android, Kindle, Nook, BeBook, Sony, Adobe Digital Editions, Kobo, Calibre, Google Books.
PDF (Adobe reader) PDFs are readable by Kindle, Nook, Google Books, Sony and Kobo.
HTML (web page) HTML is readable on any internet browser. The book and its images are sent as a self-extracting Zip file.