One Fell Swoop paperback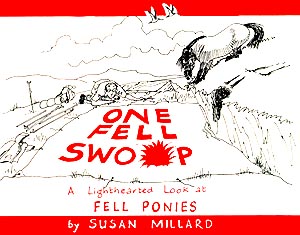 This is where it all started, with humour, history and horses.
Norman Thelwell was Sue's hero (they both hailed from the Wirral) so when Sue moved to Cumbria and bought a Fell pony this "fellwell" book was the inevitable result.
A series of affectionate cartoons, poking gentle fun at the Fell breed and its history.
GENRE: Cartoon humour, farm & working animals
Paperback ISBN 978-0-9573612-7-0
£5.00 + P&P - see Links page for my local bookshops
Kindle ASIN B008ZBPB14 £3.00
ISBN 978-0-9573612-6-3
Order ONE FELL SWOOP
Paperback
£5.00 + P&P
---
One Fell Swoop digital version: Kindle
ASIN B008ZBPB14 £1.99
ISBN 978-0-9573612-6-3 Buy from Amazon
---
Reviews of One Fell Swoop
"... a smile on every page." Westmorland Gazette
"Fell ponies are the Jacks and Jills of all trades but under Susan Millard's pencil they are transformed into Cumbria's comedians and clowns... ... if you don't know one end of a Fell pony from the other, you'll still get a gaggle of giggles from these funny drawings." Keswick Reminder
"If you have ever had anything to do with native ponies, then buy this book. It is a joy from start to finish." See full review at Jane Badger Books. Jane also praised One Fell Swoop in her 2012 roundup of books , saying, "There has been some cracking non-fiction this year too. Sue Millard's One Fell Swoop is a book of brilliant cartoons about the Fell pony, which, allied to its witty and well observed text, make it a joy."
---
***** Great fun

Good fun, worth a read for any Fell pony lovers, showing the history of the breed with some fun drawings. Amazon UK 19 Aug 2013

**** One Fell Swoop, delightful!

Even if you're not a horse person, you won't be able to keep from laughing at "One Fell Swoop". The drawings are delightful! The ponies are as mischievious on the page as they are in real life. I only found one drawback in the Kindle version; I couldn't enlarge the pages to suit my old eyes. It was still worth it though, to see and read about those little scamps!
Amazon USA April 2, 2013