Connect with Sue Millard on Facebook.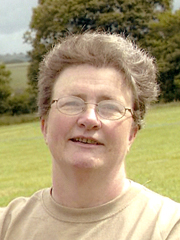 Literary Services
I occasionally take on copy editing, proof reading, dialogue checking for period British slang, formatting, advising on self-publishing, producing for digital and print, providing ISBNs, setting up a web site...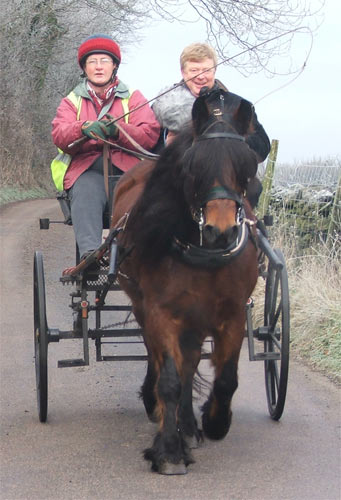 Sue Millard
I was born in Cheshire and went to school there and to university in Chester. I moved to Cumbria in 1975. Since then I've lived up here with my husband. To begin with we had a little house in Shap (just as well we both like Weather) then in 1983 we moved to what he calls "a very small hamlet at the end of the world." We have a grown-up married daughter and a son, lost a much-loved granddaughter to cancer shortly before her 6th birthday, and now have one red-headed and one blond grandson both with permanent grins and (predictably) a liking for the open air and Fell ponies.
The farmhouse at Daw Bank was rebuilt in 1902 on the footprint of a 17th or 18th century house and named after the jackdaws who try to block our chimneys with their nests - hence the publishing name. We've recently been swept into the "Westmorland Dales" section of the Lake District and Yorkshire Dales National Parks. From the house I can see Roundthwaite Common, Birkbeck Fells and the magnificent Howgills, where local farms have rights to keep Fell ponies in the traditional manner - hence the topics of many of my books.
My first degree was a 4 year honours degree, 2.1 in English Literature and Education, at Chester College (now the University of Chester). Then I got married (which wasn't in the original plan, but hey... if you've met him you'll know why!)
So I brought up a family. In between times I designed embroidery canvases, painted murals and wrote poetry and sang in choirs and amateur operatics. For 14 years I made competition driving harness for horses and ponies while we farmed at Daw Bank. I was a regular contributor to Carriage Driving Magazine, was a cartoonist and wrote for the pony magazine Going Native until its closure in 1995 after which I contributed to its successor Native Pony.
I worked in further / higher education from 1997 to 2009 at Newton Rigg College, which was bought by the University of Central Lancashire and then moved into the new University of Cumbria. In between times I achieved a Masters degree in Multimedia Computing (hang on a minute, what's this? Literature AND Computing?) Well - why not? Writers don't have to be office bound, pigeonholed, typecast or stereotyped! For instance I've also been a judge of Fell ponies, and I serve the Fell Pony Society in several roles including webmaster and magazine editor.
Three of my books were published by "proper" publishing houses, One Fell Swoop, Against the Odds (J A Allen), and Hoofprints in Eden (Hayloft). I'd been doing a good deal of editing and proofing, and managing web sites, so when I took voluntary redundancy in 2009 I decided I could be doing all this for my OWN books. That's why One Fell Swoop, Against the Odds and Hoofprints in Eden are all continuing under my own banner, alongside the titles I've written since. And here we are: I'm still writing, still making web sites, still selling books.
Luke Casey and Dales Diary interviewed me in 2007 about Hoofprints in Eden and an interview by Dylan Winter for BBC Radio 4's "Rare Steeds" is archived here (that's my Fell mare Ruby pulling us both in the carriage).
Article in the Cumberland & Westmorland Herald Monday, 08 October 2012

---
Fiction : Dragon Bait * Against the Odds * Scratch * Coachman * The Forthright Saga * String of Horses * Non-Fiction & Essays : Hoofprints in Eden * A Century of Fells * One Fell Swoop * Ponies with Wheels * Horses in the Garden * Fell Facts & Fell Fun * Short Stories : The Twisted Stair * Keeping On * Poetry : Ash Tree * Ruby Wedding * Galloway Gate * Samples! * Jackdaw : About the Author * Blog * News & Events * Services * For Overseas Purchasers * Links * Home