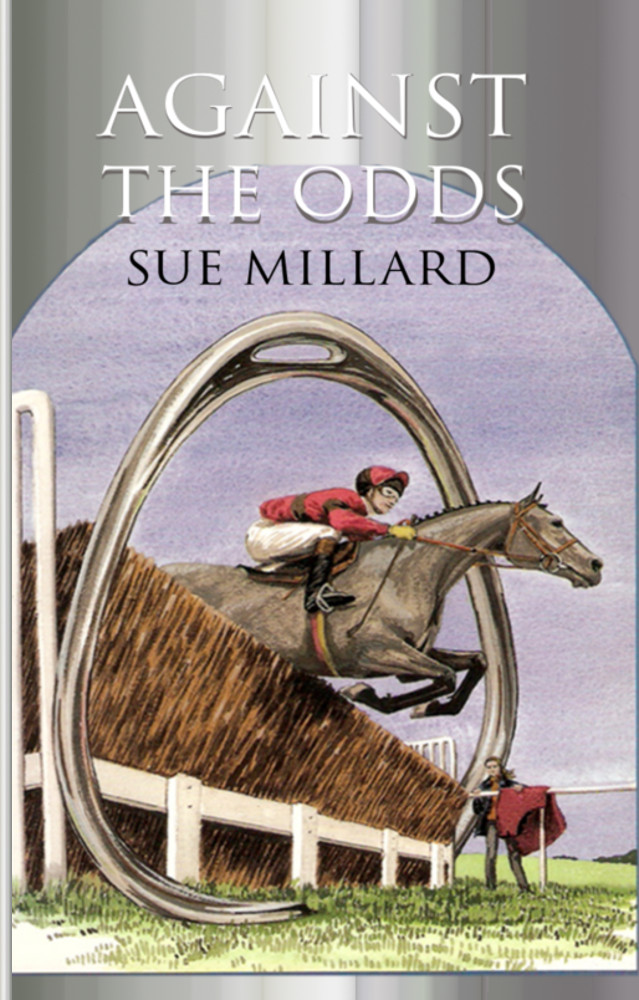 Against the Odds - where Sian and Madoc first met.
Scratch
**** A good read
A good read, particularly if you enjoy horses and the country challenges. Amazon Kindle edition DC172, 7 June 2021
**** Horses
Very good novel which kept me turning the pages. Enjoyed the family ups and downs and the animals' stories. Liked very much the happy ending!!! Amazon Kindle edition MJ Moore 3 March 2020
***** Brilliant
Brilliant reading, so sad to have come to an end. Kept me reading til I had finished it. Need to find another one now. Amazon Kindle edition C. Webb 17 August 2019
***** Fresh and thoroughly enjoyable
I have no firsthand experience of the North West of the UK but Sue Millard's book "Scratch" took me from my home in subtropical Australia to the land of the Fells in such a vivid way that I felt as if I was there on the farm with Sian, Madoc and their family of three children Robbie, Cerys and Jack along with their other family members of the four legged variety. I especially loved the Fell pony Zilla and her relationship with Sian. "Scratch" has so many interesting features and the story has depth, dealing with important matters in a deceptively simple and gentle way. The difficulties of farm life, teenage angst, family troubles, actual crime are all dealt with and the story clips along at a great rate. I liked coming home from work, making myself a cup of tea and taking up "Scratch" from where I left it to find out what happened next in the lives of Sian, Madoc and all the others. What made this book so thoroughly enjoyable was that it is written so well making it even more of a treat to read. I had read "Against the Odds" first which was exactly the right thing to do because I knew the back story and it was wonderful to be able to discover what happened to Sian, Madoc and the beautiful horses they cared about so much. As Madoc said to Sian at the end of "Scratch" "...."two down and one to go" I know he was referring to his children but could that mean we haven't heard the last about this delightful family? I for one am hoping we haven't. Amazon Kindle edition A Kakakios, 3 April 2019
***** Fell ponies, family life and murder. Great combination!
I have to admit that I have not read Sue Millard's first book, but didn't need to really. This is a no frills equine thriller set up north with perfect descriptions of stables and the Fell scenery. A family with it's usual ups and downs, but with plenty of emphasis on the horses. Loved it! Amazon Kindle edition R. Ford 28 April 2019
***** Excellent
Having read Against The Odds many years ago now i was very pleased to find this sequel. I like the fact that time has naturally elapsed between the two allowing it to be set in the present without the awkwardness of addressing (or ignoring) natural changes that occur between the decades set in. Well written with a good immersive plot that keeps you page turning. This one is written for a slightly older market than the original's young adult market, i'd say, but do not let that put you off reading the original as it's an excellent all ages read. Amazon Kindle edition, abc, 16 March 2019
***** Well worth the wait
Just as good as the first book. Amazon Kindle edition, Miss A. Maidment, 22 November 2018

***** Cracking good read
From the first paragraph this book had me gripped. Sue has a wonderful gift of bringing the landscape to life and has a true understanding of the struggle to make ends meet. It's not a true murder mystery or a very "horsey" book - everything just combines beautifully in to a cracking good read. Heartily recommended! Amazon Books Choral fan, 6 November 2018
***** Scratch... Wow, I loved it!
Please donít make me wait years for part three!!! Itís been a long while since I read a book that I didnít want it to end. I was going to save it for when I go on holiday but got sucked in and couldnít put it down! My blood shot eyes are your fault! E-book beta reader, Sept 2018
***** And itís also the best cover Iíve seen for some time!
Scratch is a sequel to Against the Odds published [in ebook form] in 2013, so volume two has been quite a long time coming. Scratch might be a sequel, but you donít need to have read Against the odds to enjoy Scratch. But I think it might help with understanding the back story if you have, so why not buy them both? At 365 pages, you can, for a full year, enjoy a page a day! It is not exactly crime fiction, although it does contain crime and intrigue. It tells the story of a family of five living on a hill farm in the fells of Cumbria, and unpicks the difficulties they, like all farmers, have with cash flow. The narrative explores the every day knock about of family life, and the importance of family. Madoc, the husband, pre-trains racehorses, his wife breeds and trains fell ponies. All the children to a greater or lesser extent work trying to make a success of their farm, but to quote from the book, they are Ďland rich, and cash poorí. Not only do they have horses and ponies, but also breeding sheep.
For those who sometimes hesitate about horsey books, donít worry, this isnít one, although there are of course horses represented, but they are more like characters than just lumps of meat. Every now and then I had to remind myself this is a work of fiction, but it sounds very authentic to me, more especially so, because I live near the area in which the book is set. I think it is always a good sign when you read a book, if you are sorry when it has ended, it happened with this one. I wanted to telephone one of the characters to see how they are getting on now. An excellent read providing much drama, comfort and feeling. Amazon books Martin C, Sept 2018
Reviews of the first book: Against the Odds
---
Fiction : Dragon Bait * Against the Odds * Scratch * Coachman * The Forthright Saga * String of Horses * Non-Fiction : Hoofprints in Eden * A Century of Fells * One Fell Swoop * Ponies with Wheels * Horses in the Garden * Fell Facts & Fell Fun * Short Stories : The Twisted Stair * Keeping On * Poetry : Ash Tree * Ruby Wedding * Galloway Gate * Samples! * Jackdaw : About the Author * Blog * News & Events * Services * For Overseas Purchasers * Links * Home